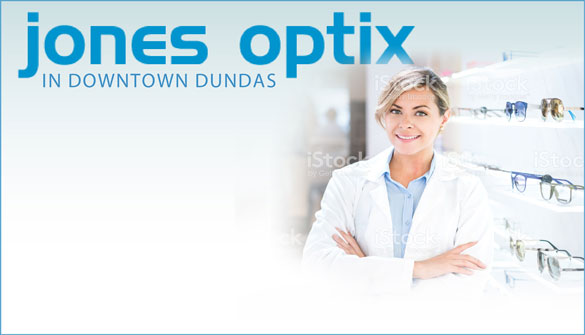 EYE EXAMS & CONTACT FITTINGS
OPTOMETRIST ON-SITE
TUESDAY & THURSDAY
TUE WED & FRI 10am-6pm THUR: 10-7pm SAT: 10-3pm
42 KING STREET EAST DUNDAS, ONTARIO L9H 1B8
905-628-5618
Opticians and Eye Wear Services For Dundas Ontario Are Listed Here.
Pearle Vision
Previously located in Unversity Plaza in Dundas, Pearle Vision now serves its Dundas clients at Limeridge Mall.
Lime Ridge Shopping Centre, 999 Upper Wentworth St #0278, Hamilton, ON L9A 4X5
Phoenix Eyewear
Conveniently located at Univsersity Plaza, Phoenix Eyewear carries a wide variety of frames. There is an Optometrist on site to conduct eye exams. Contact lenses can be fitted at Phoenix by their licensed Optician. Phoenix Eyewear is located at 119 Osler Drive, University Plaza, Dundas, Ontario L9H 6X4.
Jones Optix
From their convenient location in Downwtown Dundas, Jones Optix offers a large selection of eywear and glasses for adults and children. Located at 42 King Street West, Dundas, ON L9H 1B8 Jones Optix has two locations, the other located on Hamiton Mountain.
Blur Eyewear
Offering luxury eyewear, sunglasses, contact lenses and children's eyewear, Blur Eyewear in Dundas is situated across from the Old Clock Tower building ( formerly the Post Office ).
Surrounded by a variety of stores, hairdressers and restaurants, their address is:95 King Street West Dundas, ON L9H 1V1
Optical Clearance Outlet
Located outside of the Dundas Valley, Optical Clearance Outlet carries thousands of ' designer and brand name frames ' - at Outlet Prices ! Affordable prices that cover a broad range of lens types and frames are enhanced by the accepatance of Government Visions Plans.
Located at 3-1405 Upper Ottawa Street, Hamilton, Ontario L8W 3J6 Optical Clearance Outlet has a Certified Optician in the store at all times.